About the Partnership between RTG and AISWA
Over the last 4 years many AISWA member schools have attended workshops run by RTG (Reflex Technology Group), and with a high average satisfaction rating of 4.73 out of 5, we know they have been of great value. We at RTG are proud to be continuing our partnership with AISWA.
In 2022 we will offer a series of workshops and webinars based on feedback that AISWA members provide. We look forward to meeting with you throughout the year - on line or in-person, as regulations permit.

Who is RTG?
K to 12 Education in Australia regularly gets lumped into one big bucket and non-tailored solutions often mean that schools need to compromise on their requirements. RTG believes that schools are often in a better position than they think to tackle core ICT based decisions - they just need to know how. Our business is here to provide you with access to advice, guidance and support that reflects what YOUR school wants to achieve.
RTG is an Australian business that has a team of experienced individuals that have worked in and for schools. With our broad footprint across Australia we have developed a tested and proven path to help schools make decisions on data, risk, infrastructure, applications and systems.
We have been helping schools, both primary and secondary, for well over 20 years. Our partnership with AISWA means that we are available to answer your questions without you needing to formally engage us. If you like what we do then we hope to partner with you, as we have done, and continue to do, with schools in the AISWA network.
How does the agreement between AISWA and RTG benefit you and your school?
Your school will benefit from direct access to the services and offers from RTG.  These include RTG's Data Risk, Security and Cyber Safety Framework, which looks at and beyond just technology and compliance requirements, but also to how this is used by staff in your school.
What constitutes data governance and risk awareness in your school? Do stakeholders understand these? Do they have the right tools and knowledge, given the constantly changing cyber threat landscape and the breadth of technologies being used in the school?
Our consultants work alongside your school, implementing scalable solutions and services to track, educate and report on the different risk vectors within your organisation. Based on the globally recognised ISO/IEC 27001: Information Security Management System, RTG's Framework will help detect, contain and resolve digital risk, security incidents and vulnerabilities, no matter what size your school is.
With our help you will know where you can make improvements to protect your students and staff, beyond just having a policy or particular technology in place. You can take comfort in the knowledge that you have had someone external and independent review and provide advice.
RTG's Risk Management Service Offerings include: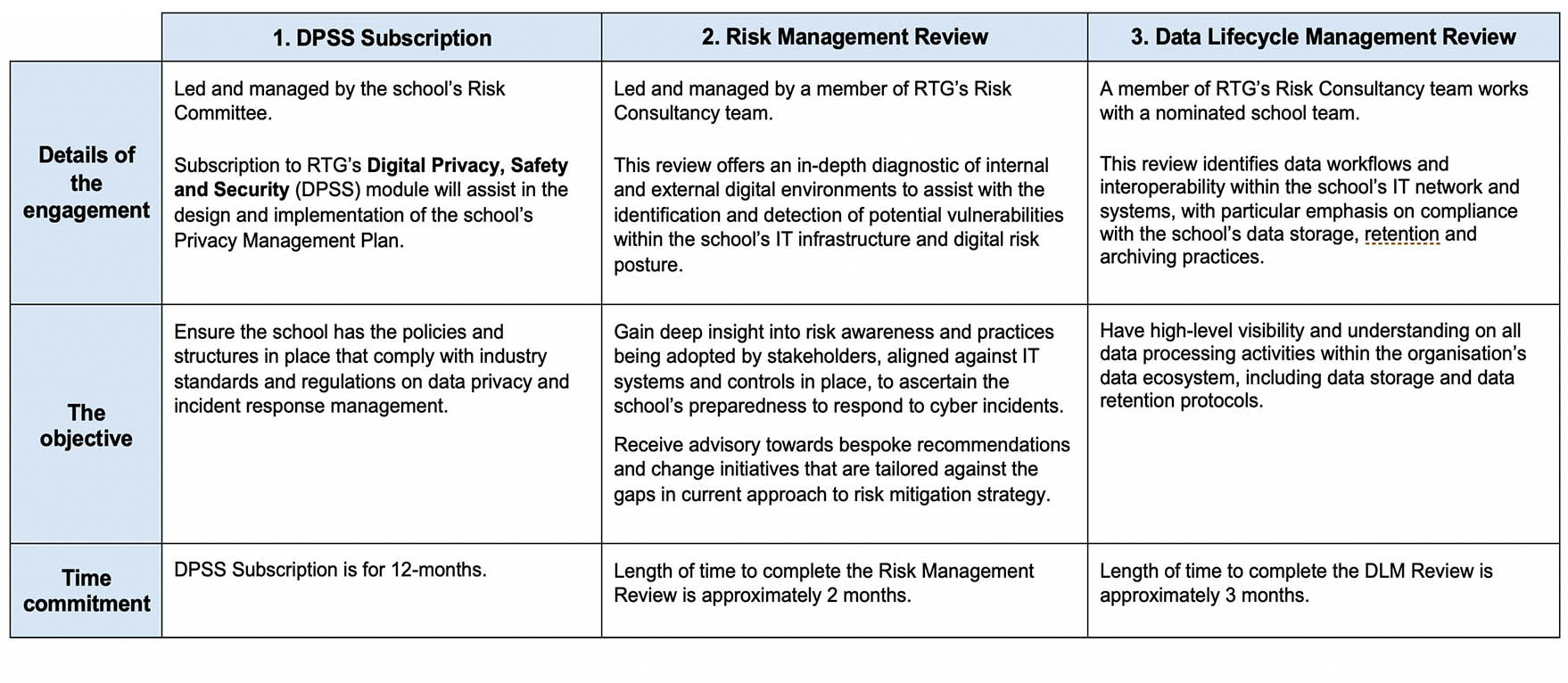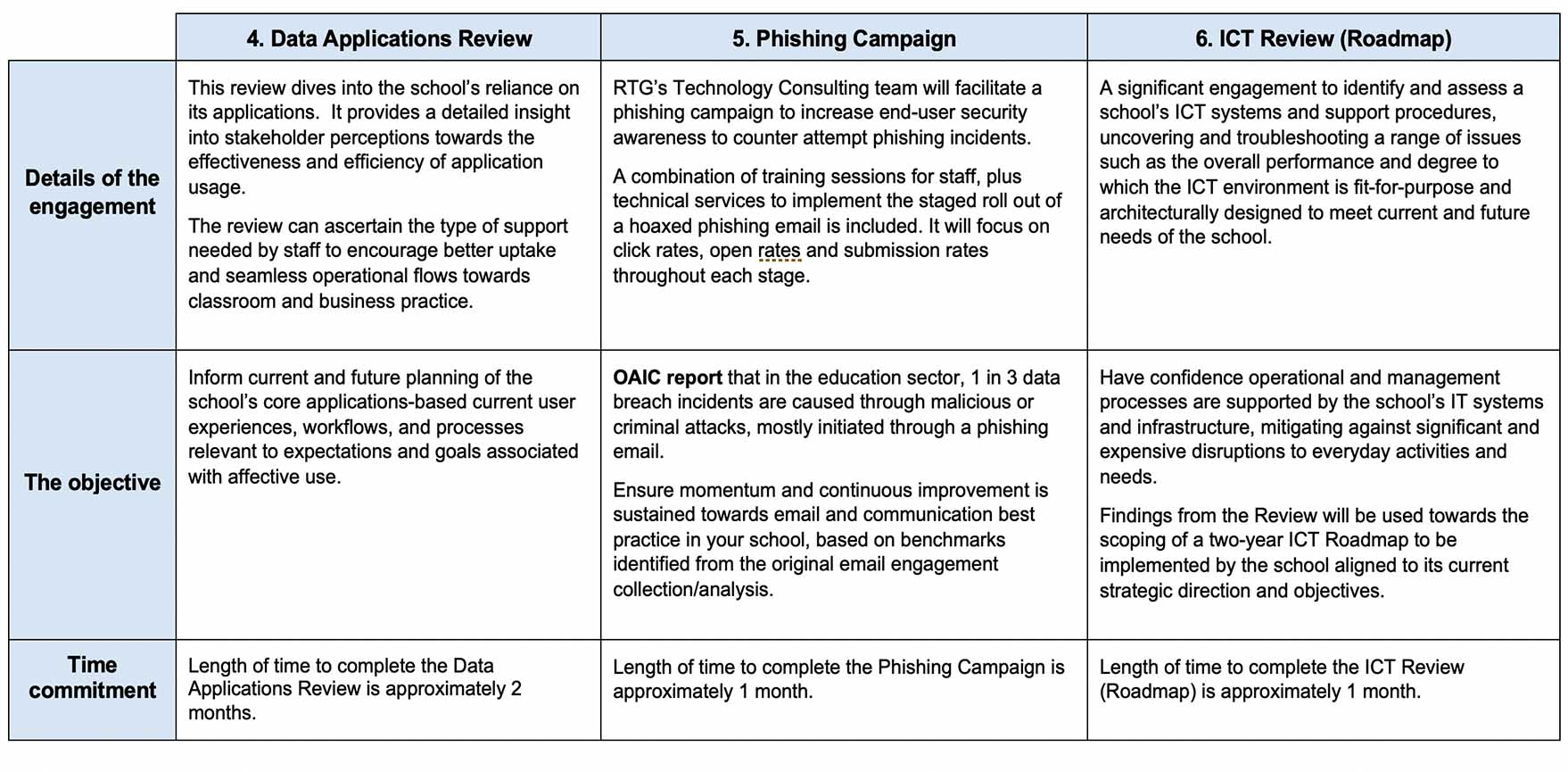 Looking to improve your schools' risk management?
If your school needs to increase the ability of your staff, processes and technologies to keep up with a constantly changing cyber threat landscape, please feel free to get in touch with Mel Gillies - RTG's Governance, Risk & Compliance Consultant on 03 9009 8025. Mel and the team at RTG look forward to working alongside your school to implement scalable solutions and services to track, educate, and report on your organisation's different risk vectors.