AISWA member school staff should login to view Member Portal help topics.
Website areas
The AISWA website is found online at http://ais.wa.edu.au.
The site is divided into two sections, namely:
a Public facing area displaying general information and public PL Event access.
a Member Portal displaying information and resources specifically for AISWA member schools and their staff. An account must be associated with an AISWA member school or organisation to access this portal. It requires secure login protocol. (See TFA help page)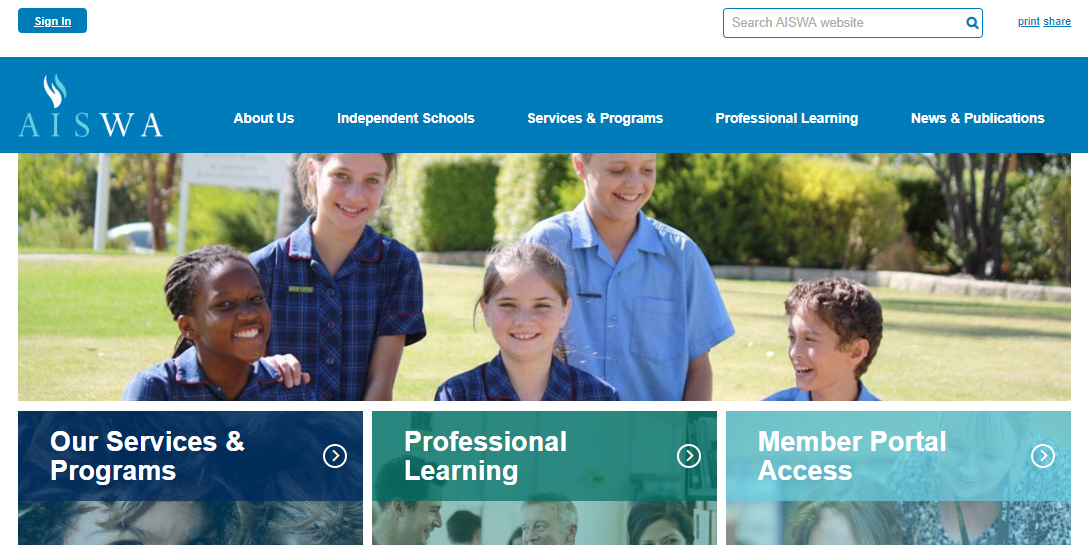 Navigation 
General navigation
You can navigate all pages of the website via the large mid-blue menu at the top of the website. The AISWA logo will always take you back to this public homepage.
To access different webpages, click or tap the text in the mid-blue menu to reveal a sub menu. In the example below the "About" section was selected. The sub-pages for this section are now shown, directly under the menu strip.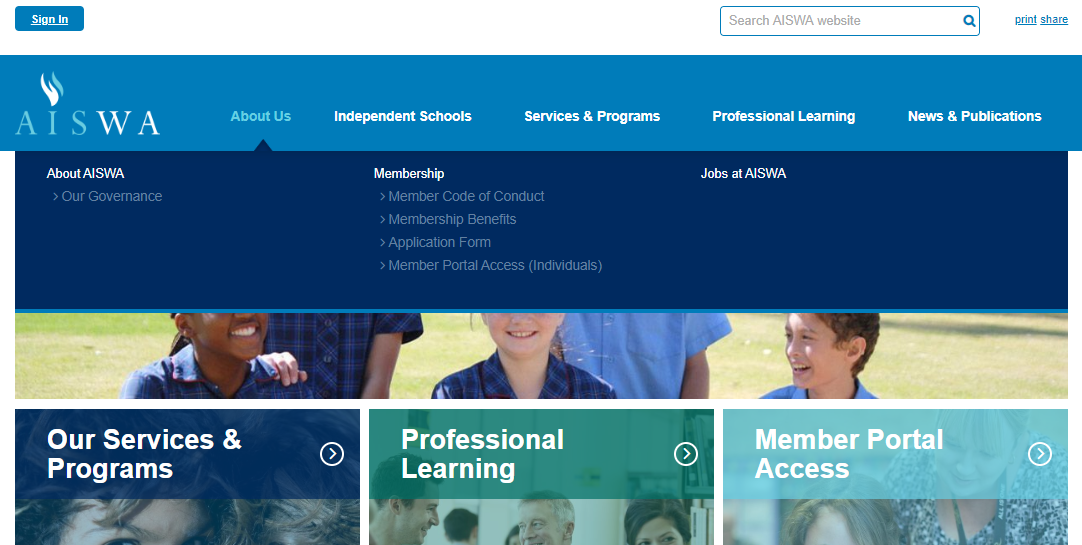 Each line of text in the activated dark-blue box is a link to another page. Click or tap the link to navigate to that page. The menus in the Member Portal work in the same way.
Breadcrumbs
When you navigate to a sub-page, a trail of parent pages is displayed directly below the menu. This shows you where you are in relation to the rest of the website. You can click on any of these links to trace your path back through the pages you have visited.  HERE refers the current page.

The Side Menu
This menu (black) gives users access to their personal information and settings (for regular users) and to funding application forms and school management tools (for executive users).
Also visible here:
Submenus of any currently selected parent menu
Downloadable files associated with some web pages
Quick PL Event and AISWA Online Learning Information
Emergency information
Ability to change your details
Reset TFA to log-in
Dropdown menus
The AISWA website uses special dropdown menus that allow you to select from a list to quickly and easily find specific items. Type a keyword into the text box at the top of the dropdown menu and the results will quickly display. Click on the desired item to select it. This feature is most commonly used on the PL Event listing page.
Accordian menu and page menu links
An accordian menu compacts the information under headings. It makes the page overview quicker. We could have used it on this page, but we used a menu linking system instead.  Either way, they give an overview of the headings on the page so you can quickly select the information you need.
Search, print and share
These tools are found in the top right corner of each page.

Search
Find information quickly using the SEARCH box (top right of every page). Type in a key word/phrase. Click enter on your keyboard or the magnifying glass icon to initiate the search. The Search will return all results containing those keyword(s) from across the entire AISWA website.
NB: Ensure you are logged in to access member content within the search results or you will only see the resources and pages visible to the public.
Print individual pages via the PRINT link (top right of the screen). The printed version of the page is optimised for printers. It will vary slightly from the screen version. The steps are the same as printing any other document from your computer.
Share
Website pages can be shared via social media or email by clicking the SHARE link. The current page will always be the one shared. Navigate to the page you wish to share before using this link. Select where to share the page (Facebook, Twitter or Email) and you will be redirected to a page to complete the form to share THIS CURRENT PAGE.
Creating a User Account
All new user accounts
To create any new user account, click the SIGN IN (login) button (top left of the website Home Page) to access the standard login screen.

Click either CREATE NEW ACCOUNT tab and complete the form. The completion of this form, and the following authorisation process, will depend on what kind of new user you are – member or non-member.
After completing and submitting this form, a CONFIRMATION EMAIL with a temporary password and a link to complete your profile will arrive at the email address you specified.  The speed at which this email is delivered depends on the account type. Check your junk/spam folder if there seems to be an unexpected delay.
For account-specific information please read about member types, below.
Non-Member School - Guest User Accounts 
By creating a GUEST account you get access to register for PL Events and receive PL update information on the AISWA website.
When filling in the standard Create New Account form, DO NOT select a school or organisation. You are a Guest non-member and do not belong to an AISWA school or organisation.
Details about your GUEST account
The account is free.
AISWA only collects the limited amount of data required for PL registration and event compliance.
AISWA stores your data securely and does not share your personal data with any 3rd party. No credit card details are stored.
Your account will be DELETED after 12+ months of inactivity. It is easy to sign up again in the future if you need to.
No TFA is required as a GUEST account does not allow access to secure areas or to PL Events that are 'member only'.
Member School User Account
Members have access to information in the SECURE area of the website and to the full range of AISWA PL Events.
To CREATE a Member account
You must be employed by a member school or organisation. Your school or organisation will be required to confirm this association with you before member account access is granted by AISWA.
On the New Account form DO add your school details.
An email will automatically be sent to your nominated school/organisation to notify them of your account request. The school's AISWA Website Administrator will confirm your account. This is a manual process at school level. You will need to wait for this school-level action before having your account accepted by AISWA. Please follow up this process at school level if there seems to be a delay.
To TRANSFER a Member account between schools
You may need to transfer a current website account from one member school to another. That can be done.
The AISWA Website Administrator at your new school can do this. Ask your school leadership team if you're not sure who has that role.) Your username (i.e. your school email address) will have changed and this will need updating in the data your school shares with AISWA.
Details about your MEMBER account
The account is free.
AISWA only collects the data required for PL registration, event compliance and school invoicing. Some details are supplied by you, and some because your account is associated with your school.
AISWA stores your data securely and does not share your personal data with any 3rd party. No credit card details are stored.
Your account will be ongoing until you leave your current school. At this time, your school email address is deleted from that staff list. The same account can be re-activated by a new member school if your transfer.
TFA is mandatory as Member accounts gain access to the secure Member Portal area.
Members can take advantage of the full range of PL Events and special member pricing via the website listings.
Tabs - login, new account or request new password
The button is located at the top left-hand side of the screen until you are logged in. At the login screen, enter your email address and password for this website and click login to access the site.
Username and password
The username is an email address. For Members, it will always be the email address that connects them to their school and approved by the school.
The password requires at least one letter, one number and one special character and must contain at least 8 characters.
A forgotten password can be retrieved by clicking the Request New Password tab. Follow the simple on-screen instructions. An email will be sent with instructions on resetting your password. If you do not receive it within a few minutes, check your junk/spam folder.
Two factor Authentication (TFA)
Members will be required to undertake the mandatory TFA (using an Authenticator app) on login. See TFA Help for more information.
Two Factor Authentication
For Member accounts only, to meet AISWA and Member Schools' security and privacy compliance.
From February 2022, your user-identity verification will be undertaken using an AUTHENTICATOR APP. Users have a choice from four – Microsoft Authenticator, Google Authenticator, Authy or FreeOTP. They are free and available cross-platform from app stores.
You will be prompted with instructions to set this up when you CREATE AN ACCOUNT. There are on-screen instructions and Help videos for those who need them. After that initial setup, just collect the code from the app each time you need it to log in.
If TFA has not been set up within the first three login attempts, your account will be blocked. AISWA Web Support will need to be contacted to unblock it. You will also be required to change your password.
Users can request that their TFA be remembered on their TRUSTED BROWSER for 30 days. DO NOT USE THIS feature if other people use your computer.
To access How-To videos for TFA, please see the TFA Help page.