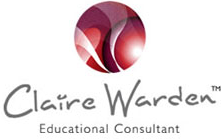 AISWA has developed a close relationship with Claire Warden. Claire is a world leader in Nature Pedagogy.
"Nature Pedagogy is an understanding of our sense of belonging to land, our sense of working with nature. There is a pedagogical shift when you move outside into nature... it's learning with nature, not just teaching about it." 

Claire Warden
Our relationship includes study tours to Scotland to visit Claire's Nature Kindergarten, sponsorship of Claire's consultancy in Western Australia and as a provider of Claire Warden endorsed courses. AISWA's licenced trainer offers training in Talking and Thinking Floorbooks, Talking Tubs and Encouraging Risk in Outdoor Settings.
Details of upcoming training workshops and other Early Childhood PL can be found via AISWA's Professional Learning calendar.