The Government of WA Department of Jobs, Tourism, Science and Innovation has officially launched a whole-of-state STEM Skills Strategy.
The supporting paper, "Future Jobs, Future Skills", is important reading. Schools are identified as key stakeholders and critical agents of change. 
Interdisciplinary curriculum links, general capabilities and cross-curricular priorities dominate the themes, along with building community partnerships and global vision. The paper clearly overviews 3 big goals, 5 sets of stakeholders, 5 foundational pillars and 17 themes. These are listed below for quick reference.
The paper also includes a glossary of terms intended to equip all STEM providers with common understanding.
Be inspired. Consider how you could support this STEM Strategy in YOUR schools.
Visit AISWA's STEM Page here: https://www.ais.wa.edu.au/stem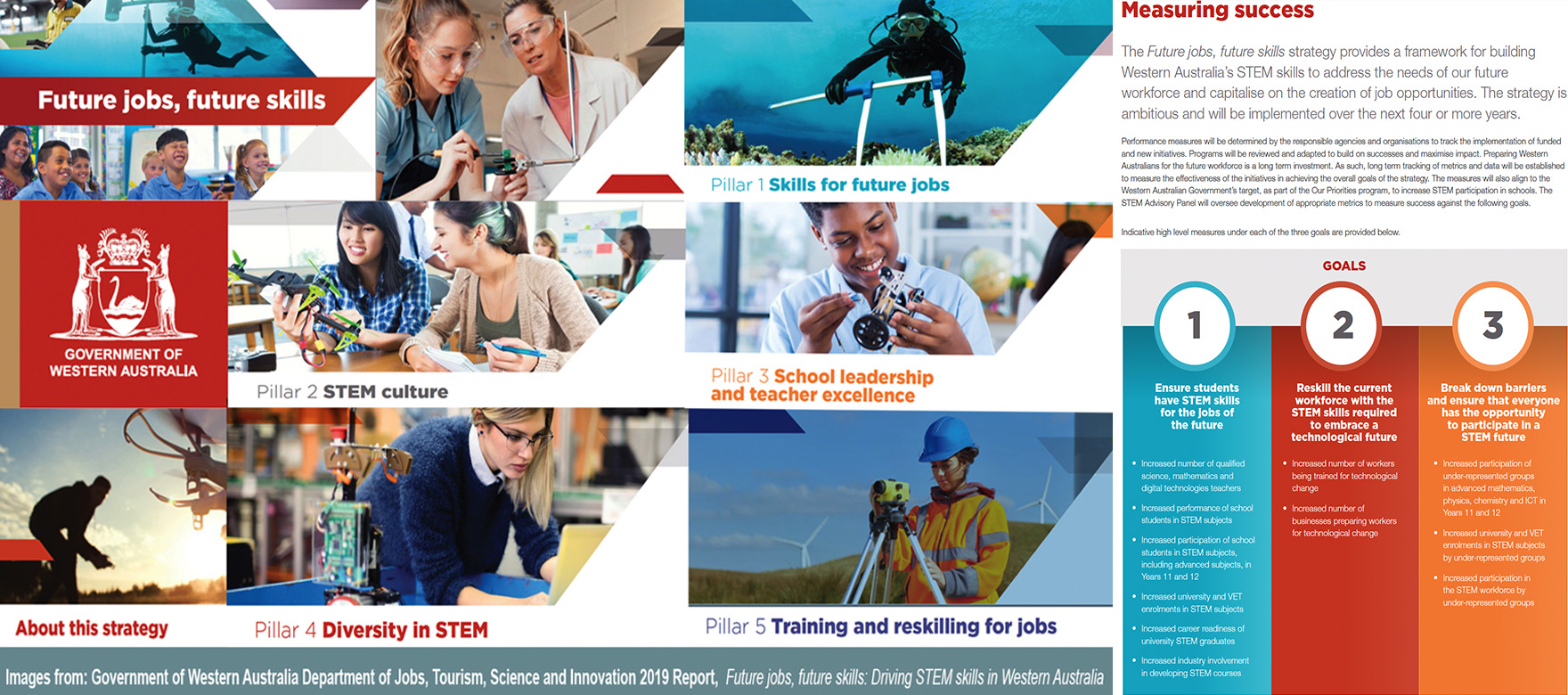 Pillar 1: Skills for Future Jobs
1.1 Higher Order Thinking Skills
Providing opportunities for students to develop higher order skills and capabilities such as problem-solving and creative thinking.
1.2 Digital Skills
Providing opportunities for people to develop digital skills.
1.3 STEM Discipline Skills
Maximising all students' exposure to science, technology and mathematics subjects at advanced levels to develop deep knowledge of the concepts and practical techniques in STEM disciplines.
1.4 Predicting Future Skills Needs
Developing a detailed understanding of future STEM skills needs.
Pillar 2 STEM Culture
2.1 STEM Culture in the Community
Strengthening STEM culture in the community through STEM education and outreach.
2.2 STEM Culture in Schools
Strengthening STEM culture in schools, particularly in the early childhood and primary school years.
2.3 Industry Linkages with Schools
Enhancing the impact of industry-schools linkages to develop student abilities and career aspirations in STEM related areas.
Pillar 3 School Leadership and Teacher Excellence
3.1  School Leadership
Building STEM education leadership in schools.
3.2 Professional Learning for Teachers
Building capacity for teaching STEM and STEM disciplines within the existing teaching workforce.
3.3 Teacher Qualifications
Ensuring a strong supply of qualified STEM teachers.
Pillar 4 Diversity in STEM
4.1 Women and Female Students
Enhancing women and female students' participation in STEM education and careers.
4.2 Aboriginal People
Enhancing the participation of Aboriginal people in STEM education and careers.
4.3 Diverse Backgrounds
Enhancing the participation of people from all backgrounds in STEM education and careers.
4.4 Careers Information
Improving careers information to encourage participation in STEM.
Pillar 5 Training and Reskilling for Jobs
5.1 Reskilling the Current Workforce
Reskilling the current workforce with relevant STEM skills to be active participants in a work environment that responds to technological change.
5.2 Responsive VET Sector
Continuing to build an adaptive VET sector that is responsive to emerging workforce needs in STEM related areas.
5.3 Responsive University Sector
Continuing to encourage a strong and flexible university sector that builds Western Australia's STEM capacity and capability.