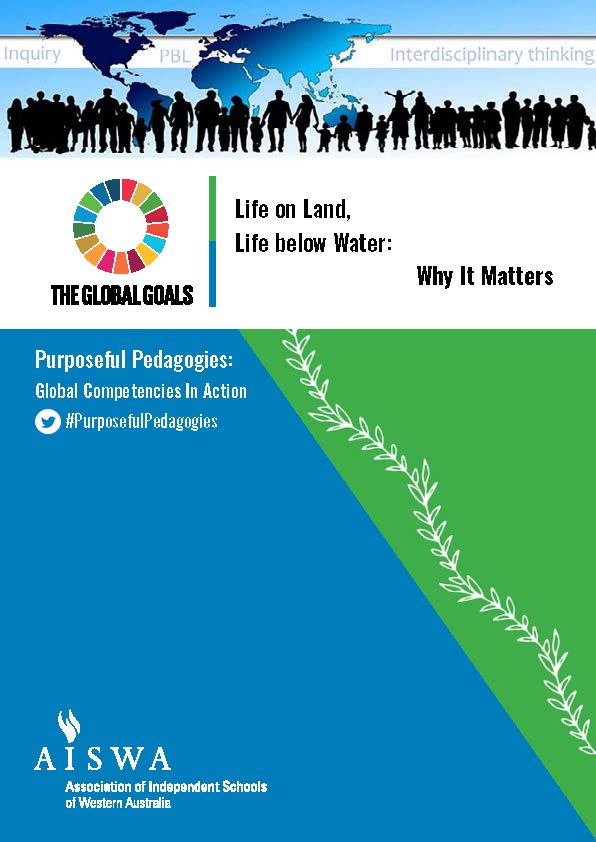 This resource originated as an exciting interdisciplinary Professional Learning experience for six AISWA schools to design a socially purposeful project, exploring a real world environmental issue based on Sustainable Development Goals #14 and #15. Teachers demonstrated professional growth by documenting their teaching and learning journey, and students produced an art exhibition and digital product to connect with others and share their actions. In doing so, both teachers and students demonstrated Global Competencies such as Creative and Critical thinking, Ethical Understanding, and ICT capabilities.
This teaching and learning resource is suitable for teachers of all levels of experience from a range of subject areas. It provides a series of case studies showcasing a Project Based Learning (PBL) inquiry approach by students from Year 2 to Year 6, as told by the teachers and students involved. 
Click here to access the free Global Competencies in Action Resource 2022
AISWA Disclaimer
The information contained in this document is to the best of our knowledge and belief correct at time of publication. However no warranty or guarantee is or can be provided by the Association of Independent Schools of Western Australia (AISWA) or any member of its staff, and no liability is or can be accepted for any loss or damage resulting from any person relying on or using this information contained in this publication. AISWA values education and equality of all students within Western Australia. However, the views expressed in this publication by the individual schools who participated in the project that resulted in the publication are their own and do not necessarily represent the views of AISWA.
Copyright
Copyright in this publication, Purposeful Pedagogies, Global Competencies in Action, belongs to the AISWA. Apart from the use as explicitly granted below, all other rights are reserved. All other persons may not reproduce, copy, broadcast, exhibit and/or distribute photographs and audio and/or video recordings from this publication. Schools that are members of AISWA are welcome to use, reproduce, copy, broadcast, exhibit and/or distribute photographs and audio and/or video recordings from this publication. Acknowledgment of AISWA would be appreciated.
© AISWA Educational Publication teacher resource 2022 - not for resale.
This material may be used, reproduced and communicated free of charge for non-commercial education purposes, provided all acknowledgments are retained. This material is exempt from collection by copyright agencies.