Event registrations closed on 15/01/2020
Description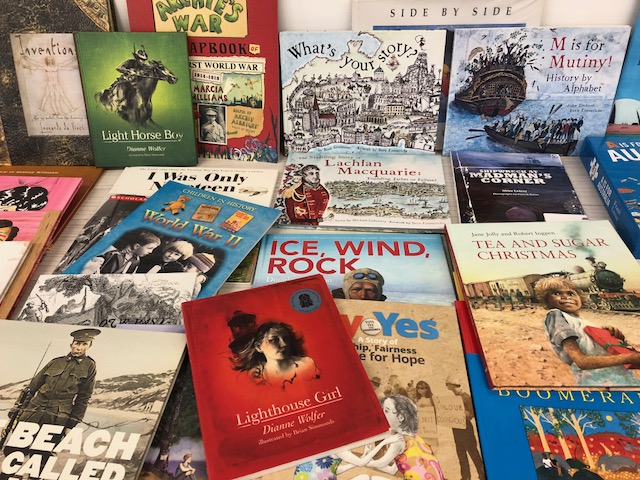 How do you engage your students with quality children's literature, that will not only spark their curiosity, but create meaningful links to Learning Area content, using Inquiry pedagogy and effective questioning?
Year 3 - 6 teachers
This workshop is designed to assist primary teachers effectively plan integrated units of work using the General Capabilities: Literacy and Critical thinking, as a starting point for the content and skills in Learning Areas such as HASS, Science and Technologies. Meaningful links to the English Curriculum, Childrens Literature (picture books) and Guided Reading will be explored through hands-on activities with the Education Team from the State Library of WA.
Join us as we share, discuss and explore numerous opportunities to engage your students with quality children's literature, that will not only spark their curiosity but link to several areas of your specific curriculum content using Inquiry pedagogy and questioning.
Please bring your own laptop or iPad as we will be sharing on-line resources and creating a personalised collection for your classroom during the afternoon planning session.
Morning tea, lunch and resource pack included.
Please note:  Due to the AISWA website being down for maintenance between 13 December and 20 January 2020 if you would like to register please email lhamilton@ais.wa.edu.au
Presenters
Maree Whiteley
(AISWA Staff)
Teaching And Learning Consultant - Primary

Maree Whiteley works with teachers and curriculum leaders to bring innovative and practical pedagogies into the classroom, through special projects and whole-school planning. Currently working as an AISWA Consultant in the Primary Teaching and Learning area, with specific expertise within the Humanities and Social Sciences Learning Area, this gives Maree the perfect platform to go beyond the curriculum, exploring areas of global imperatives for our young people, such as ethical and humanitarian issues, critical thinking and cultural competence. Maree continues to enjoy sharing her experience, knowledge and expertise with others in workshops, conferences and in online forums.
Tricia McKenzie
State Library Of WA

Tricia McKenzie is an Education Officer at the State Library of WA, whose role is to engage students and educators in the collections of the State Library through workshops, resources and Professional Learning. Tricia has over 20 years teaching experience. She has been a lead teacher in Primary School Literacy, Mathematics and Digital Technologies in Western Australian and UK schools. Tricia is passionate about sharing her love of history, literacy and integrated technology with the Education sector.
Kate Ackerman
State Library Of WA

Kate's career began as a biochemist with the Wessex Health Authority in the UK before moving to the BBC and working as Associate Producer for Science and Features.  On return to Western Australia Kate worked with the Film and Television Institute and in the production of independent documentaries for SBS, including, 'Artists Up Front' 'Buffalo Legends' and 'No Milk, No Honey'. After completing a Diploma in Education with the University of Western Australia and working as a secondary teacher, Kate worked as an education officer with the Western Australian Museum before moving to the State Library of Western Australia.
Segments
Event Segment
Date / Time
22/01/2020
Starts: 09:30
Finishes: 15:30
Address
State Library Northbridge