Event registrations closed on 1/09/2020
Description
Leading Innovative and Exemplary Teaching​ - Using formative assessment and school-based action research
AISWA and Brightpath are pleased to offer an extended course designed to support you with leading innovative and exemplary teaching as well as leading formative assessment and school-based action research.
The course will not only help you demonstrate achievement of key exemplary teaching and leadership competencies, but it will also inspire your teaching and provide you with warm, collegial support.
The central theme of the course the use of quality literature to explicitly teach writing. WA's authors Mark Greenwood and Frane Lessac and AISWA's curriculum experts will share ways of using quality literature to invigorate, stimulate, and explicitly teach their students to write engaging stories.
Dr Sandy Heldsinger will show you how to devise action research and how to use Brightpath to evaluate student growth in learning.
The research completed in this course provides opportunity to demonstrate Principal Professional Practices: leading, teaching and learning; developing self and others and leading improvement, innovation, and change.
What's involved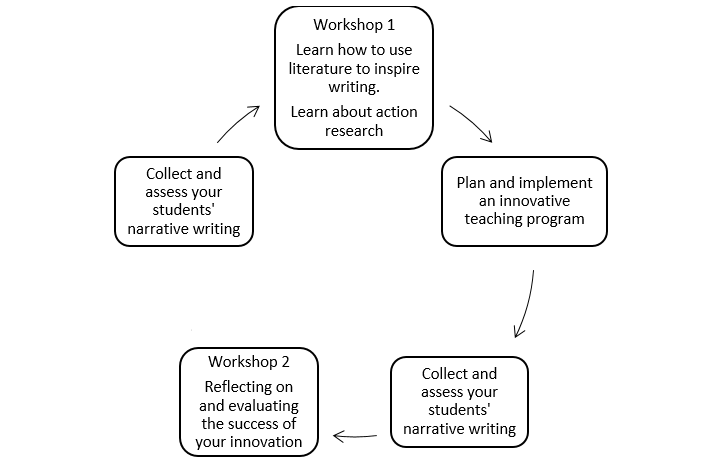 At the end of the project, you will be well placed to present your work to your colleagues and at school conferences and networking events.
 
RESOURCES
Resources provided include a range of children's books to use with your students and booklets that will help you use these books as the springboard for teaching writing.
Presenters
Dr Sandy Heldsinger
Brightpath

Dr Sandy Heldsinger is leading the introduction of the Brightpath assessment and reporting software in schools across Australia. Brightpath is an innovation approach to assessment and reporting, and is the result of over a decade of research at UWA to find a way of obtaining reliable teacher judgements.
Sandy co-ordinated the WA system-level assessments, has taught masters level course in educational assessment for a number of years and has led the development of  a wide range of resources, including reporting software, to support schools in using assessment to improve student performance.
Sandy was recently acknowledged as WA's pre-eminent educational leader by the Australian Council of Educational Leaders.
Penny McLoughlin

Penny loves reading and is passionate about using literature to enrich children's lives. She has had the privilege of working in a variety of roles as an educator and consultant in Western Australian schools and institutions. She is currently an Associate Principal working part-time in a secondary school. Penny's extensive experience in curriculum development for English and Literature; her teaching;  her work with teachers and school improvement; her love of reading and her experience as a Literacy consultant has informed the production of the Brightpath Next Steps materials.
Segments
Event Segment
Date / Time
7/09/2020
Starts: 08:30
Finishes: 15:00
Address
Telethon Speech and Hearing Centre
Event Segment
Date / Time
23/11/2020
Starts: 08:30
Finishes: 15:00
Address
Telethon Speech and Hearing Centre