AISWA congratulates Mr Benjamin Lomas, Principal of Peter Moyes Anglican Community School for winning the Modern Language Teachers' Association of WA Principal's Award for 2021. His school has the largest Indonesian program in Western Australia with over 1200 students studying the language which is offered from Pre-Primary to Year 12. Benjamin was nominated by his staff and selected for his support and promotion of the Indonesian program, support for initiatives that promote student engagement, development of self & staff, and, the promotion of multilingualism within the wide school community.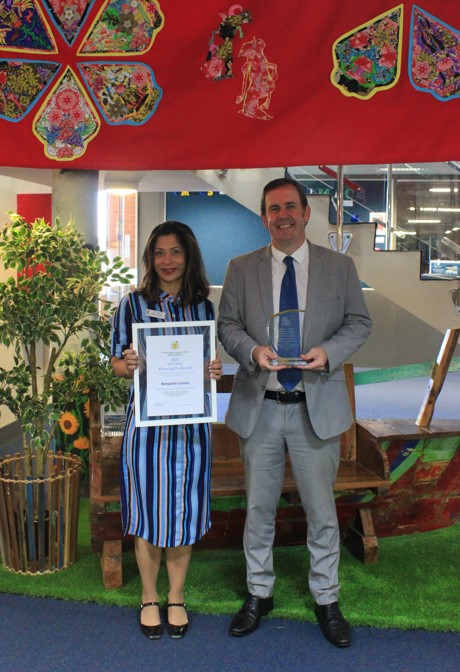 Benjamin credits success through the guidance of his dedicated Languages staff and the established initiatives which have reaped success throughout the past 20 years.  Such initiatives include:
- an Accelerated Indonesian Program which provides high achieving learners the opportunity to complete the Year 12 ATAR course for Indonesian: Second Language in Year 11,

- a sister-school partnership with Margie School in Surabaya, East Java. So far there have been six school student exchanges between the two schools, providing opportunities for rich and valuable person-to-person intercultural exchanges and chances to practice and use the Indonesian language,

- hosting an Indonesian concert by popular artist Miki J in the school auditorium bringing Indonesian learners from local schools together.

- offering the school as a venue for evening Indonesian lessons for the general public, run by the Balai Bahasa Indonesian Perth (BBIP).

- provision of an adequate Languages budget, Indonesian classroom(s) and regular promotion of language learning.
"As an educator, I value the importance of learning a second language. Studies have clearly shown how it benefits a student's education and cognitive function, and I personally believe language learning fosters a deep appreciation and understanding of diverse cultures and communities." Benjamin Lomas, 2021.
The Award was announced and a certificate, trophy and $400 prize were presented at the MLTAWA Sundowner at Cottesloe Life Saving Club on 23 September 2021.