AISWA's brand new website is now live, offering member schools and their staff continued access to AISWA support services, Professional Learning and member only online resources in a more convenient and intuitive way.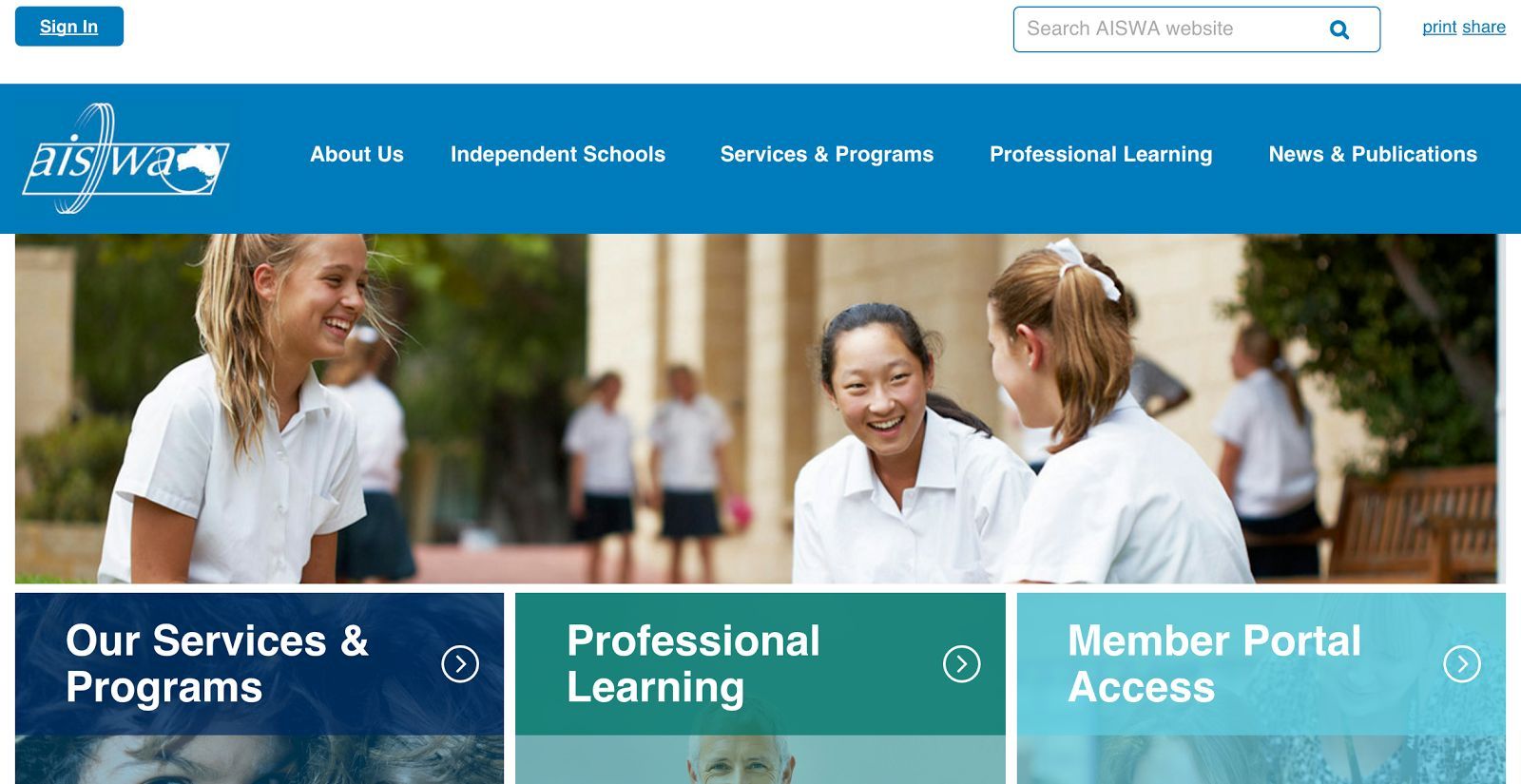 Here are just some of the new features you will find when exploring the new site:
Logging In
AISWA member school staff should use their existing username and password to sign into the new website. AISWA has streamlined the login process so now teachers, authorised users, heads of schools and affiliated organisations can access the member portal via the same simple login interface. Non-members can also create accounts to register for and manage available Professional Learning, especially useful for regular participants of AISWA PL.
Forgotten your password?

No problem, you can request a new password here. Enter your school email and your will be sent instructions on resetting your password.
Member Portal Dashboard
AISWA member schools and their staff have access to the Member Portal, a secure area of the website containing member-only information, resources, online applications and school account management tools. Once logged-in, member school and organisation staff will see a new menu at the top of the page providing access to these member-only features. If you do not have access, ensure your account is associated with a member school or organisation.
The Member Portal Dashboard provides quick access to your professional learning history and notifications as well as any applications and school account management tools your school has provided you with access to.  For example, your school's copyright administrator will be able to access copyright related material and forms via this side menu. If you require additional access, please ask your School's AISWA Website Administrator to assign the appropriate role to your account.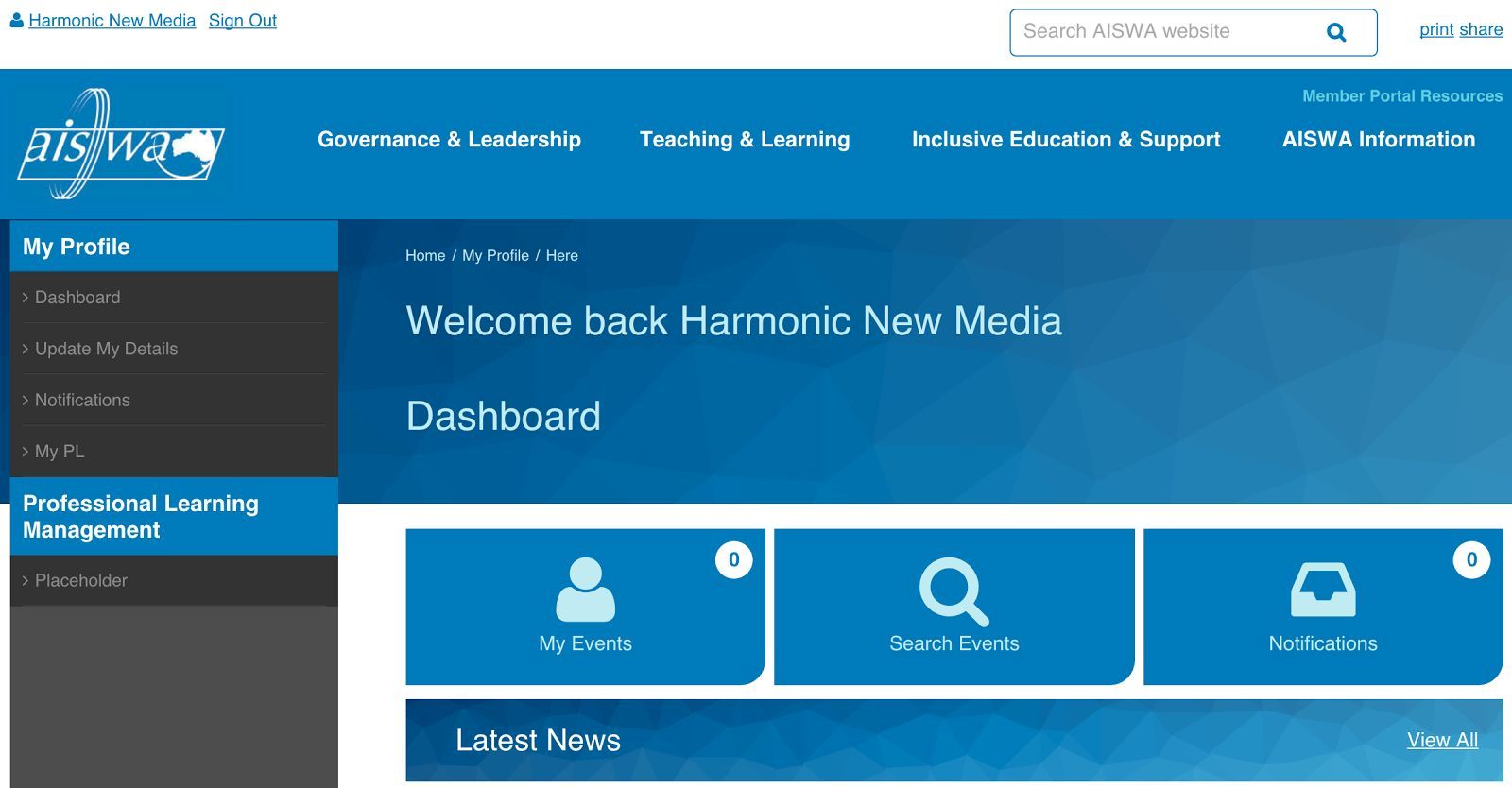 My Account 
Users can self-manage their AISWA website account including the ability to update their password, contact details and website preferences. We suggest users visit the My Account area on your Dashboard and update these details as well as newsletter preferences and their areas of interest to receive the most up-to-date AISWA information including special initiatives for Independent Schools and upcoming Professional Learning opportunities.
If you are new to a school and had access at a previous school your account can be transferred to the new email address. Items like PL hours can be moved across to your new account. You can contact your School AISWA website administrator to organise this.
School/Organisation and User Accounts
The management of a school's account and associated users remains the responsibility of the respective School's AISWA Website Administrator. We have added many new features to simplify management of these accounts including bulk operations allowing the Admin to assign roles to, activate and remove users from a school. AISWA has also added the ability for users to access the site under more than one school or organisation for occasions where you may need to act on behalf of multiple schools or organisations (eg. submitting applications).
If you manage the account for your school or organisation, remember to update the schools communication preferences and emergency contacts at the beginning of each Term. Multiple school campus addresses can now be added to a school's profile. You may also wish to review user roles for staff at your school as many new and modified roles have been added.
Professional Learning
The new and improved Professional Learning and Event Calendar makes it easier for users to find and register for AISWA's comprehensive suite of PL experiences. Participants can manage or cancel events online and AISWA is now accepting online payment by credit card. Alternatively, participants from member schools can request that their school be invoiced. 
Users can now return to the PL listing once they have attended the event to download resources from the day. An email notification is sent once these become available.
A new role 'School PL Admin' has been created which allows the user to submit bulk registrations on behalf of the staff at their school, view all PL registrations for a school and download copies of school PL invoices as well as accrued PL hours for staff.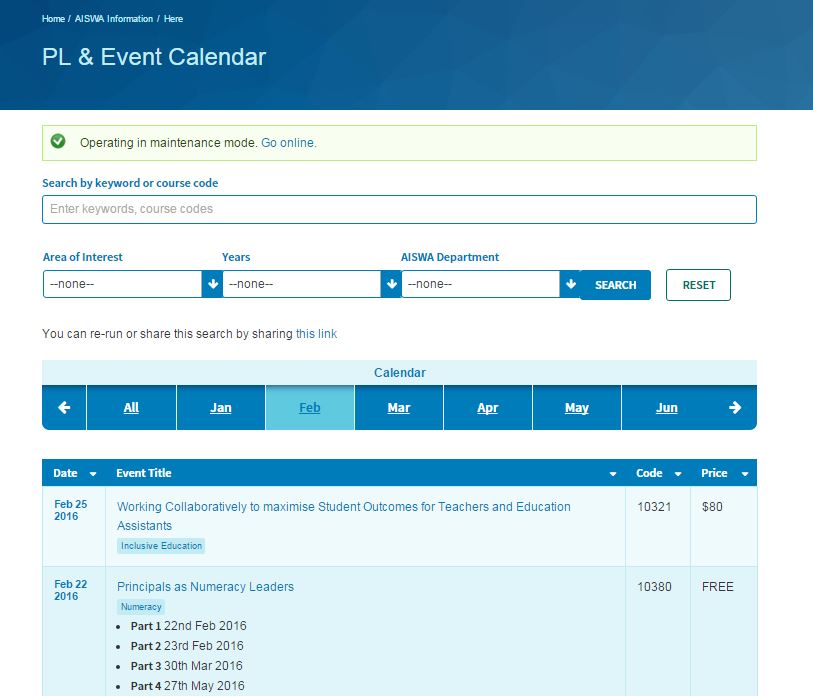 Online Applications 
Heads of Schools or Organisations can now confirm funding and other applications made via the AISWA website rather than returning a signed form via fax or email. A Head of School will be emailed and notified when an application has been submitted by a staff member with the appropriate permissions. They can review the application by clicking on a link provided in the email or visit the respective application section of the AISWA portal to confirm or defer the most recent submission.
Find and Share
Users can now search the entire AISWA website making it much easier to find the resources your need, fast. Searching the website will return results from throughout the entire site including member portal resources and any related files. Make sure you are logged in to access member content within the search results.
All pages within the AISWA website can be shared via social media (Facebook, Twitter) or email by clicking the 'share' link that is located at the top right corner of every page. 
Want to know more?

View our AISWA Website Help section, talk to your School's AISWA Website Administrator or contact us.

AISWA will hold a number of School AISWA Website Administrator Workshops in 2016. Check our Professional Learning calendar for details of upcoming workshops.