About this Event
This professional learning event is about Exploring the Inquiry Mindset through Curiosity, Questioning and Student-centred Assessment. 
During this highly engaging TWO-DAY event, internationally recognised inquiry experts, Trevor MacKenzie and Jessica Vance, will challenge your mind to rethink the role of the teacher and the learner in the inquiry classroom. You will participate in activities that can be immediately applied to your practice through practical instructional strategies that engage the questions, wonders and curiosities of learners that align to curricular standards and outcomes.
From the start of DAY ONE to the conclusion of DAY TWO, MacKenzie and Vance will facilitate sessions that intentionally engage participants in different opportunities to develop questions about their own professional practice, identifying barriers that most commonly get in the way of us all embodying an inquiry mindset. 
During the two days attendees will be tasked to consider alternatives to our current professional approach. We will explore specific constructivist frameworks, structures and protocols that seamlessly transfer and support students, teachers, curriculum coordinators and school leaders. Be ready to take the Critical and Creative Thinking capability to a new level!
 
Registration – 3 Options
TWO-DAY registration option. AISWA highly recommends this option to gain optimum value from this PL opportunity. Click here for details.
Day 1 ONLY option, please click here for details and registration.
Day 2 ONLY option, please click here for details and registration.
Special Book Offer 
Full TWO-DAY registration includes a copy of the presenters' latest publications:
          Inquiry Mindset Assessment Edition: Scaffolding a partnership for Equity and Agency in Learning. Trevor Mackenzie (2021)
          Leading with a Lens of Inquiry: Cultivating Conditions for Curiosity and Empowering Agency. Jessica Vance (2022)
Event Program
DAY 1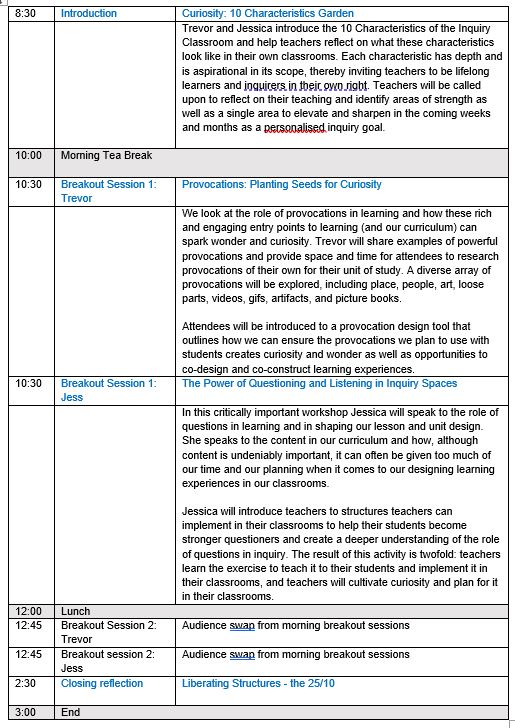 DAY 2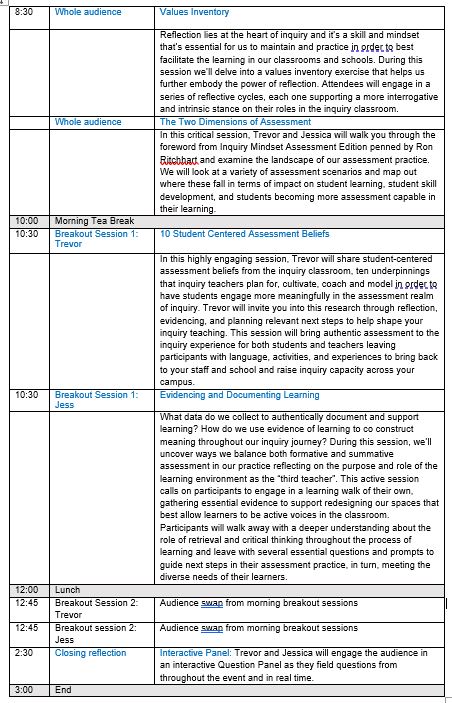 We would like to thank Perth College for hosting our professional learning event.